The Ethics of Creating Entertainment
Visual recognition systems built by white people have equated black faces with apes. AI is built on biases that originate in the minds of its creators. The creators of systems always transmit their biases. It's not just in AI.
Witness the current chaos at the MIT Media Lab. Joichi Ito, the director of the lab, accepted donations from Jeffrey Epstein and allowed Epstein to direct additional funding to the lab, including accepting money from Bill Gates. Ito just resigned from the lab as I write this.
A resignation doesn't erase that a circle of male scientists took funding from a sexual predator. They knew what Epstein was up to. They took the money anyway. They tried to cover up where the money came from to protect a circle of powerful men. This is why we need more women at the top of political and scientific institutions. This is why we need more people of color at the highest levels of politics and science. Diversity is the cure to fixing creator bias. The circle of power serves only those who created and maintain it.
But it's not just science and politics. What about entertainment? Movies? Esports and games? Isn't the same thing happening? Of course it is. As a system, entertainment is male-dominated and mostly controlled by white people. Its creators transmit and imprint their biases on the system.
Movies must move, so it makes sense that the most popular story form for a movie is an "action story." Action means less dialogue, so these stories transmit well globally. Their character development is often shallow, so they are easier for audiences to grasp without thinking too hard. They are violent, because violence is thrilling. Something is broken with that formula. We end up with movies that celebrate weapons, war, and violence. Movies that celebrate misogyny. More movies that show hatred and revenge. Fewer movies about love and connection.
Look at esports and online gaming and you'll see a battlefield. In these immersive entertainment experiences violence is normalized.
It's easy to claim, "if more women were in the executive suites of movie and television studios and entertainment companies we wouldn't have as much violent entertainment." It's not a perfect answer to the problem, but it is right. Certainly women create violent movies. Kathryn Bigelow. Women act in violent movies. Linda Hamilton. If you were to look over a list of all movies ever released, you'll see that women who create entertainment are interested in bringing more diverse themes to the screen than men are. Not only does the entertainment industry need this diversity, but we, the humans who watch the movies, need it. Immersion in violence is not what we need.
Look around and you'll see many projects springing up to address this: Jill Soloway's 5050 by 2020. My wife's project, Show Up for Her: 100 Leaders Change Hollywood. It matters what we write and create. It matters who does the writing and creating.
"Well," I imagine a purist objecting, "Shakespeare wrote about violence. Some of our greatest literature is violent." If Dr. Freud were here he'd say that fictional violence allows us to sublimate our inner chaos, leaving it in the theater rather than bringing it to the streets. Aristotelian theater purges us of violent impulses. You remember "catharsis" from some long-ago literature class?
Somehow, it isn't working that way anymore. When we experience violence on screen it is not the same as the acted violence we experience in a theater. Theater violence is symbolic. Screen violence is real, or seems to be. "Video games don't cause violence" is oft-quoted research. But entertainment is becoming a complete sensory experience. It's not happening in a theater. It's on screens that are everywhere. You watch a racist video on YouTube and the platform feeds you more. That's how the algorithm works. With artificial intelligence woven in, with VR and AR standard, we live inside our entertainment. It won't be escapist. There is no catharsis. There won't be anything to sublimate. We will be one with the violence and misogyny we portray on our screens.
The cure is to bring more women and people of color into power in entertainment. If you're a decision-maker in that industry, you have an obligation to bring diversity to your team. And if you're a man creating media, you can help by not choosing violence as your default plot point.
There's a lot more to write about this, so I'll revisit this topic later on with some personal experiences woven in. Thanks for reading,
Lee
---
Outlier Podcast Festival in LA
Next weekend I'm moderating two panels at the Outlier Podcast Festival. If you're in LA, stop on by. Both panels are on Saturday, September 14th. Details here.
GOING HOLLYWOOD: Get Your Podcast Optioned by a Network or Studio
The panel will reveal what it takes to bring a podcast property to market in film and TV and how to understand and navigate the ecosystem of podcast adaption. We'll bring in successful case studies and break out success strategies. The panel includes an entertainment industry manager, a studio head, and a producer who is prepping his podcast for industry pitches.
FICTION STORYTELLING: Acting, Directing, and Writing the Audio Drama
This panel is all about creating successful podcast audio dramas. We will discuss how to make podcast dramas from the actor's, director's and writer's perspective, and we also have a sound designer on the panel to talk tech. The panelists include GK Bowes, star of my audio drama Privacy Pod, Michelle Agresti, an actor in the legendary science fiction audio drama Wolf 359, Claudia Dolph, producer/writer/director and actor in SOLDADERA, an audio drama which is part of the FutureX Podcast Network, and her sound designer Evan Schletter.
Hope to see you there!
---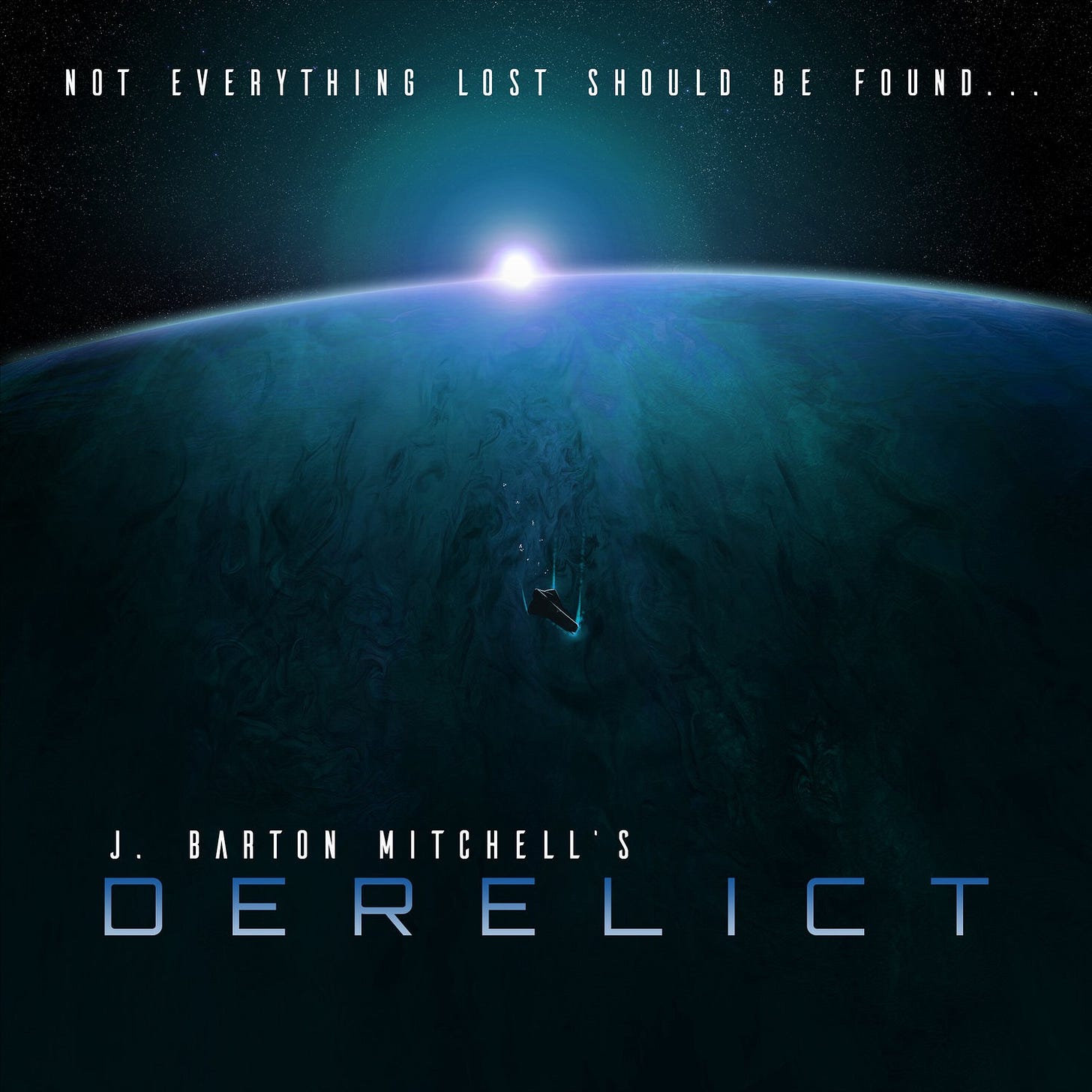 Q&A With J. Barton Mitchell About His New Podcast
J. Barton Mitchell is known for his novels and films. Now he's written and directed his first podcast. His science fiction audio drama DERELICT is the newest addition to the FutureX Podcast Network. I asked him some questions by email about why he chose to launch his first podcast, what it was like to direct it, and the deep secrets to making sound design an immersive experience. Read the Q&A on Medium.
---
Welcome to THE WEDNESDAY BUMP
I'm working on something new for 500 Words. It's called THE WEDNESDAY BUMP. THE WEDNESDAY BUMP will bring you a fresh mid-week boost of creativity on Wednesdays, using Q&As with experts. It will be about staying curious and learning, talking about productivity, time management, and doing your most creative work. It's a mid-week Bump (hence the name) and it will be for paying subscribers only. You''ll also get access to subscriber-only discussion groups right here on 500 Words.
Click the button above to sign up for 50% off. You'll get in on THE WEDNESDAY BUMP and the subscriber-only discussion groups. But do it before next week, because that's when the offer ends.
If you're on the free newsletter list you'll still get 500 Words on Sundays, just like you do now, and you will get the podcast series "On a Call With…" But no BUMP unless you subscribe.
And if you're wondering when I will do the next ten episodes of "On a Call With …" I am wondering the same thing. I just started teaching the semester at USC, so I'll probably resume the mini-podcast interviews after I get a few more USC classes taught.
See you next week.